Many in the ecommerce world are used to having pre-built integrations between their ecommerce platform and their favorite email service provider or marketing communications platform. But what if you are on an ecommerce platform that has no integration?
Imagine having to always manually export all of the list of customers and try to get orders, export them and import them and try to build segments on your own. It's a lot of work and most people in that situation just don't do all of the work to get all of the data that really makes the email service provider platform powerful. So what do you do? Fortunately, as a certified SI and one of Klaviyo's favorite partners for building these integrations, we get the pleasure of helping people connect the two systems so they can elaborate the power of email marketing and automated client communications and leverage the power of all their transaction data and customer data without having to do manual steps all in between. So what does it typically look like? Here's a case study to give you a sense if you are in this situation for what are the different steps.mber of 2018, Magento announced that it would stop supporting Magento 1 at the end of June 2020.
Historical Order Import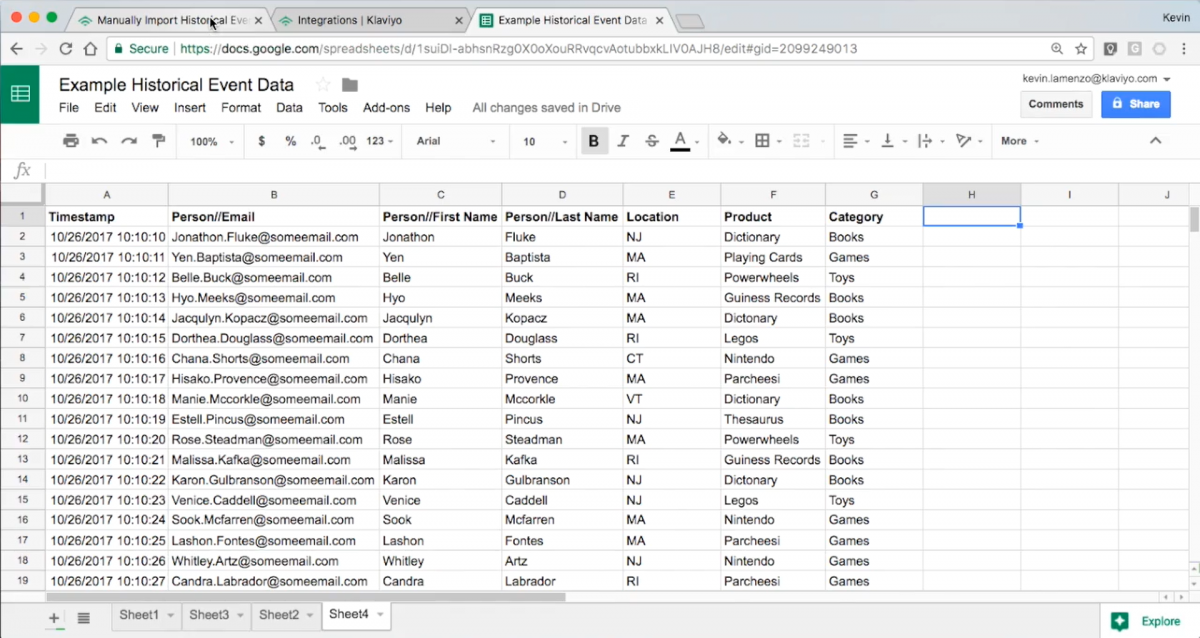 First, there's typically some kind of historical order import into your platform. The order history has key segmentation data like products purchased, lifetime value and certain platforms like Klaviyo would use that to predict the next purchase and would use that for advanced segmentation. So, getting that historical order data is typically key and a major part of the project.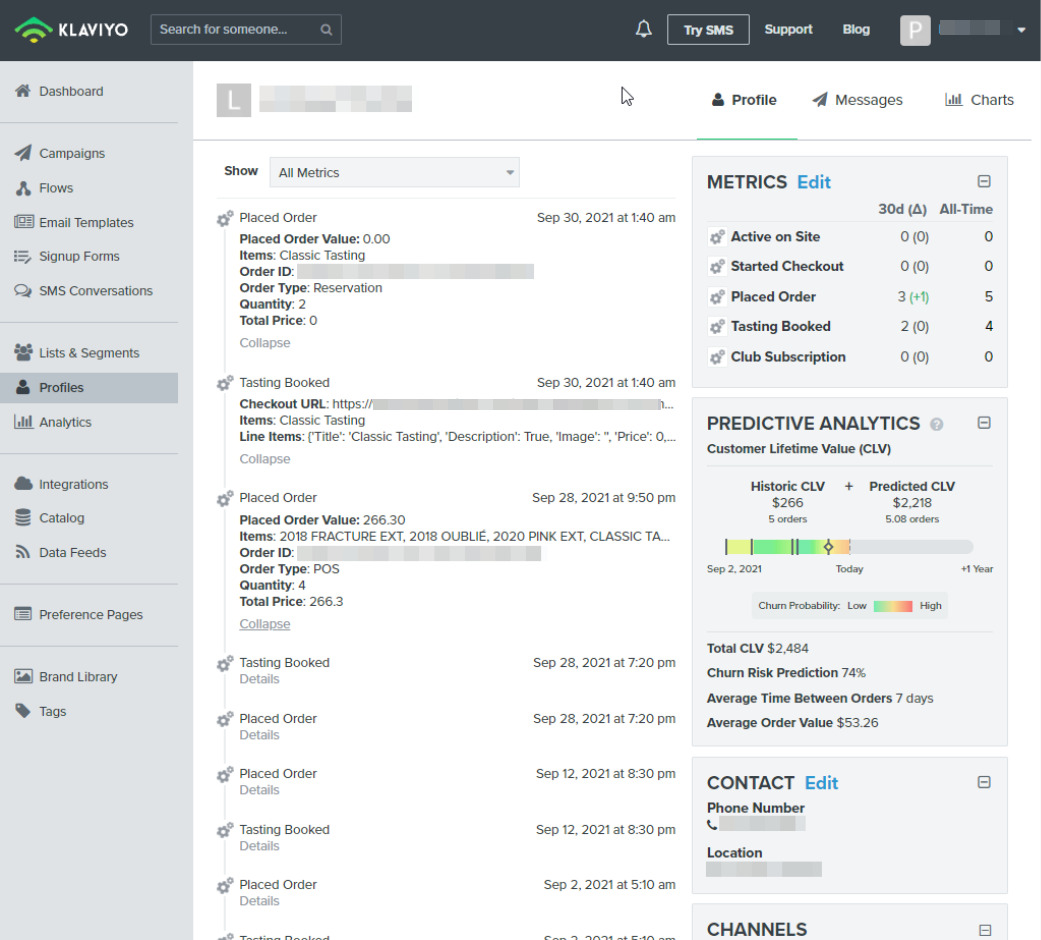 Real-Time Cart Data for Abandoned Cart Recovery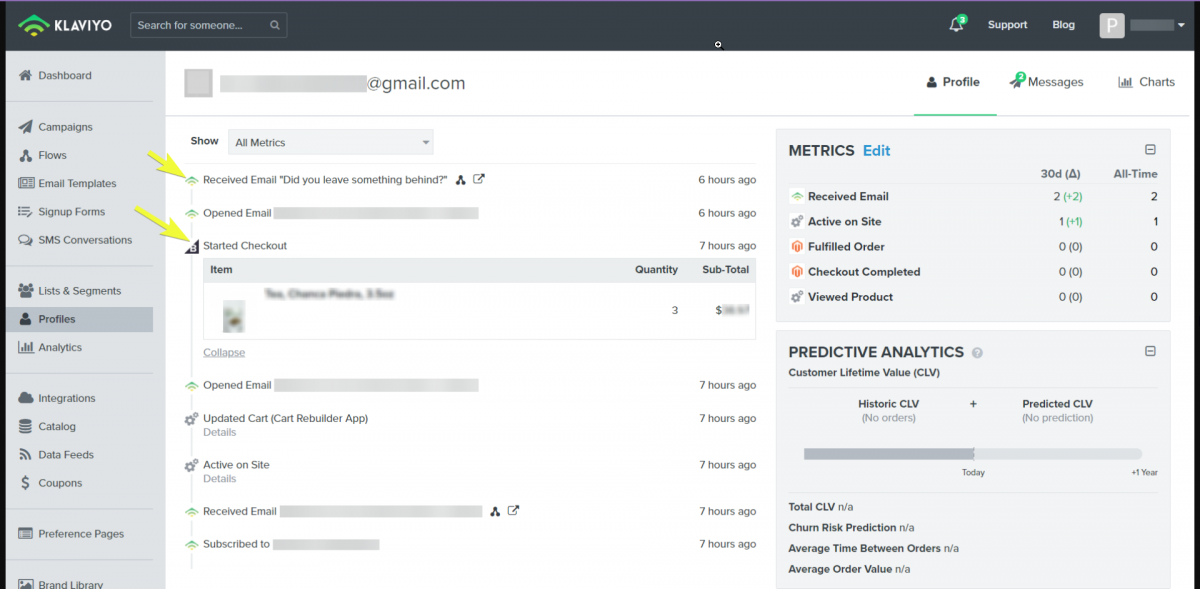 The second part is listening to the stream of carts created so that we can create one of the most powerful of all of the flows or automation which is the abandoned cart recovery. In order to do that, your platform has to publish either through an API endpoint or web hooks the individual carts that get created so that if you have an email address for that cart you can build automations to follow up with that automatically and link people back to the carts. Interestingly, in the case of Wine Direct there was no such an end point and no such carts available to return people to so the abandoned cart aspect had to be removed from the program. However there's still a lot of value to be done with customer integration.
Real-Time Order and Stream

The next part is listening to the stream of orders and sometimes that is a web hook or API available and other times we have to have an external service that will pull and grab the data, keep track of it and insert it into the email service provider. And this is critical because without your order data you can't have a proper abandoned cart. You'd be following up with everybody, even with those that completed their order which of course is a poor experience.
Other Customer Data – Point Of Sale (POS) and Offline Events
Many of our clients have a blend of brick and mortar and online, and quite often there's no connection between the orders they are taking through their Point Of Sale (POS) in-store, and their marketing platform. A custom integration can be set up to query the POS system for new orders or customer events, and then insert those events into Klaviyo. Here's an example of a client with a winery: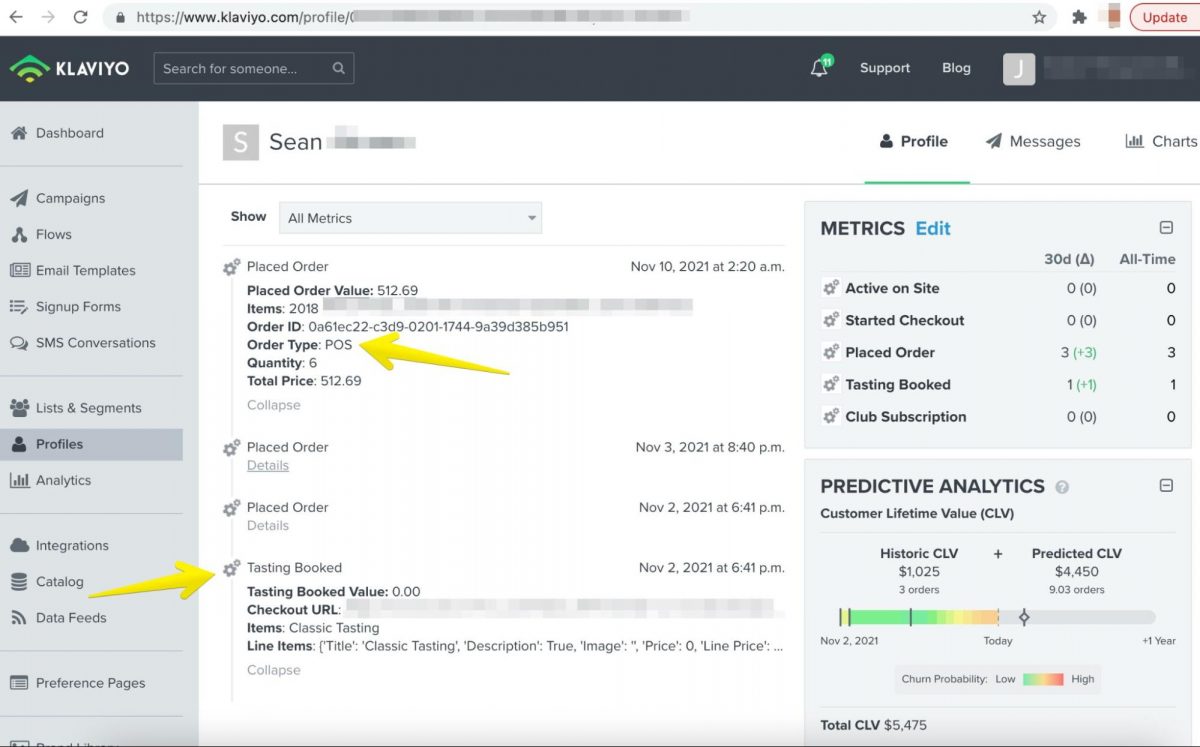 As you can see they have customers book a tasting at their tasting room. Naturally a lot of the people who do tastings end up buying wine right there on the spot. With a custom integration this data can be inserted into Klaviyo so they can easily build segments of all buyers of certain types of wine, and can follow up on auto-pilot with customers who came in for a tasting, bought some wine, and may be ready for a few more bottles shipped directly to their home.
Like the winery example – we've built integrations with many different point of sale systems and Klaviyo, and have our own web service that runs to pull in data in near real-time. It's powerful to see offline data flowing into the digital marketing systems, as many times this is the initial entry point for our clients' customers.
Migration and Deliverability Warm Up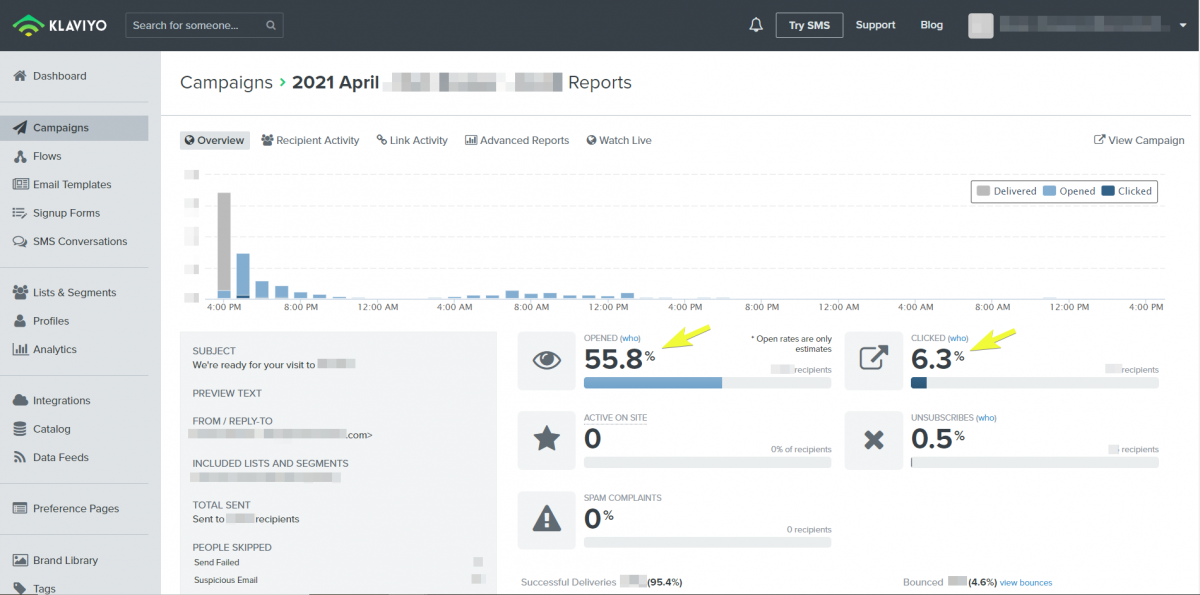 Sometimes there's already some email marketing activity on another platform and a migration is required to Klaviyo. In this case not only does the data need to be migrated over from the old platform to Klaviyo, but we also need to "warm up" the new sending servers in the eyes of the big email hosts (Gmail, Microsoft Outlook/Hotmail, Yahoo, AOL, etc). The idea is that these big email hosts are weary of big volumes of email that all of sudden start coming from mail servers that haven't historically been sending for that domain. It could be seen as spam. So the "warm up" is a process of starting with small sends – typically less than 10,000 emails – to the most engaged part of the subscriber list, and slowly increasing the number of emails sent over a period of typically 4 weeks. The goal is to keep as high an open rate and interaction rate as possible as the sending volume ramps up over that period. In this way the big email hosts will warm up to the new sending servers and give you good deliverability once you ramp up to start sending to the full list.
This deliverability warm up requires coordination between the old platform and the new, and segmenting and/or tagging so that you're not accidentally sending the same email to the same customer twice from both platforms.
Pulling It All Together – Audits and Adjustments
It's difficult to audit all of the data without rolling up your sleeves and starting to work with it. It's common to need tweaks to the event data or custom properties that get created by the integration as the marketing team starts to actually use that data to build campaigns and automations. It's wise to factor in some time for adjustments and support as the rubber meets the road. We haven't seen a custom integration project yet that hasn't required modifications once the data is truly audited through actual use.
So, hopefully this breakdown of a typical custom integration will help you with your own planning, whatever systems you're trying to connect. If you need a hand we're here to help. If you'd like to hear a recent review from one of our custom integration clients, check out what Chelsey from Booker Wines had to say about her experience working with Best Worlds to integrate Wine Direct and Klaviyo:
---
Joe Rollinson

Joe is the CEO of Best Worlds. Joe is an entrepreneur and engineer with 21 years of ecommerce experience. His passion started back in the late nineties when his division of Yahoo was hosting giants like the FIFA World Cup store. As the founder and CEO of Best Worlds, he has spent the last 15 years helping merchants optimize and grow. Best Worlds has been working with Magento since 2009, and has worked with over 100 different merchants, many of whom were acquired after double or triple digit growth. More recently Joe and his team at Best Worlds have been helping merchants migrate to the right platform, many to Magento 2, but others to BigCommerce, Shopify and WooCommerce when Magento wasn't the right fit.